Black Power
April 17, 1963
Malcom X speaks at Muhammad's Temple of Islam in Columbia. He was originally scheduled to speak at the Township Auditorium, before the venue canceled.
Courtesy of The State Newspaper Photograph Archive, Richland Library
Disappointed with what they saw as the slow progress of the Civil Rights Movement and in response to decades of racial violence including the Orangeburg Massacre, Black Power advocates called for strong Black institutions, support of Black businesses and jobs, and Black pride.
Civil rights figures like Malcolm X and others promoted these ideas for years, but the term "Black Power" gained prominence after the 1966 March Against Fear. There, Student Nonviolent Coordinating Committee Chairman Stokely Carmichael (later known as Kwame Ture) exited a Mississippi jail and met a crowd of waiting supporters. He declared:
"We been saying freedom for six years, and we ain't got nothing. What we're gonna start saying now is Black Power!"
Across the state and the nation, students and other activists continued to fight for equality, improved working and living conditions, and better education, including Black Studies courses.
National figures like Stokely Carmichael—who visited Orangeburg in 1968 to speak with students after the Orangeburg Massacre—and public intellectual Angela Davis promoted ideas of Black Power.
Courtesy of South Caroliniana Library
May 1968
The May 1968 issue of student newspaper, 40 Acres and a Mule, published by the Harlem branch of the New York Urban League, focuses on the assassination of the Rev. Dr. Martin Luther King, Jr. The paper revisits the assassinations of Medgar Evers, President Kennedy, and Malcolm X, asking readers to ponder the question, "Where do we go from here?"
Courtesy of Irvin Department of Rare Books and Special Collections
In 1969, inspired by the principles of Black Power, students at Voorhees College in Denmark, South Carolina, led an armed takeover of the campus. They temporarily changed the school's name to the Liberated Malcolm X University and demanded Black Studies courses, improved conditions for students, and higher wages for campus employees. The students who took over the administration building at Voorhees College were sentenced to prison time ranging from 18 months to two years.
Courtesy of South Caroliniana Library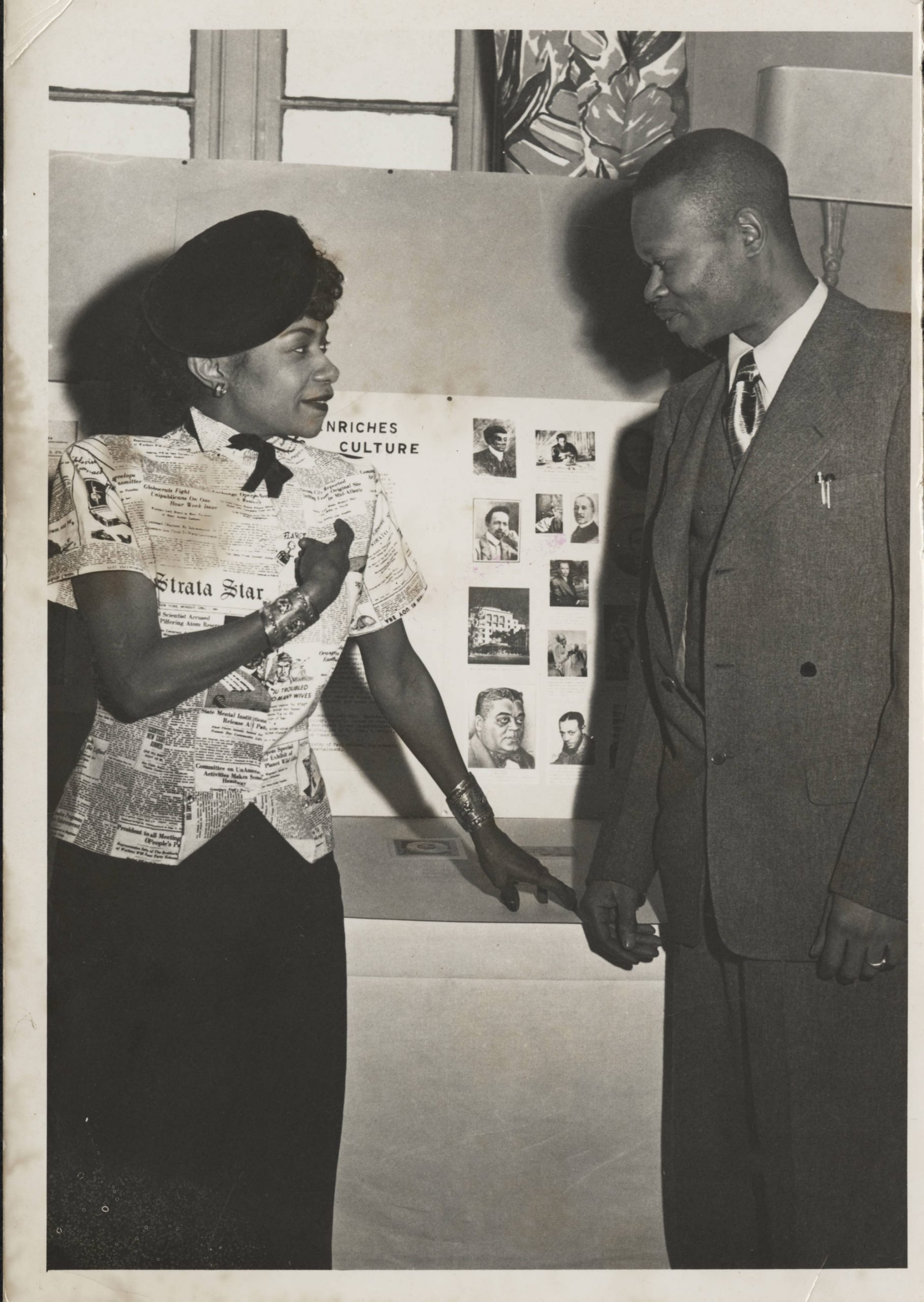 A woman shows John H. McCray a Black history display. Many students at historically Black colleges and universities, as well as at predominantly White institutions, demanded courses on Black history, which most schools at the time did not teach.
Courtesy of South Caroliniana Library
In South Carolina, Black On Nation and Blacks United for Action organized around principles of Black Power. In 1972, Blacks United for Action members demonstrated in Columbia for better housing, employment opportunities, pay, and working conditions.
Courtesy of Richland Library